Give Them What They Want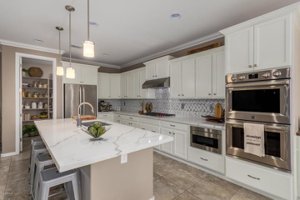 What makes your four walls and a roof better than the next person's four walls and a roof?
The features, of course. When selling a home, price is important – but it's not everything. A recent survey conducted by the National Association of Home Builders asked a group of more than 4,000 home buyers to rank the features most essential to a home-purchasing decision. The top ten ranking included hardwood flooring, storage solutions, and patio/outdoor living components. Laundry rooms and Energy Star certification also ranked high, while upscale features such as three-car garages were shown to be trending down in popularity.
Some of the design trends here in Fireside at Norterra are mirroring the preferences cited in the NAHB survey. White kitchen cabinetry remains popular, as well as quartz countertops. The iconic farmhouse sink is a coveted upgrade we've seen in quite a few kitchen remodels. Granite countertops and stainless steel appliances can be found throughout our community, and continue to rank highly in popularity among home buyers across the country. Although the national trend is pointing toward smaller homes, elements such as square footage and room count are architectural decisions mostly beyond the control of the home owner. If your home happens to be on the larger side, don't despair. Fireside attracts its share of growing families who may very well need that third garage parking spot.
Home owners who pay attention to design and decorating trends often have an advantage when it comes time to sell. On-trend color schemes, updated appliances, and smart enhancements will help attract buyers - and the right features can even add an extra dose of emotion to an already interested buyer. Popular items like smart thermostats and luxe bathroom fixtures are among the DIY upgrades that can take an average house and make it stand out. The moral of the story when you're selling your home: All things being equal… make your house unequal. Make it stand out (in a good way).