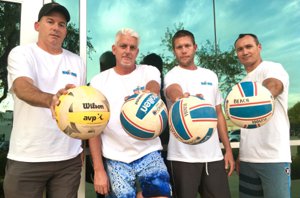 In the never-ending quest for indoor summer activities, there's some exciting news coming our way. Four North Phoenix families are taking their passion for beach volleyball and moving it indoors.
This month, Beach House Volleyball opens to the public, providing a safe and fun indoor option for summer activities. The 12,000-square-foot sports & recreation center is the creation of Brian Lambeth, Brent Frohoff, Mike Pixler, and Brett O'Keefe. All are former elite-level volleyball players who want to share their love of the sport with the next generation of players. As athletes and family men, they were committed to creating a premiere facility that also provides a family-friendly experience for all levels of play. In addition to leagues and tournaments, they will offer summer camps, birthday parties, open play, and youth programs taught by AVP professionals. With zero high school options in Arizona for boys beach volleyball, Beach House Volleyball will provide much-needed opportunities for both boys and girls looking for league or club competition, as well as private coaching and training.
Beach House Volleyball is the only indoor beach volleyball destination in the entire state. It features 3 regulation sand volleyball courts designed by AVP and FIVB court designers. Construction included trucking in more than 400 tons of washed and filtered California beach sand, making for a truly authentic playing surface. It's an ideal setting for year-round play, accommodating skill levels ranging from recreational all the way up to top-level competition. Because it's indoors, players (and fans) can enjoy a fantastic sport while avoiding the brutal Arizona heat and damaging UV rays. Features and amenities include air conditioning (yay!), spectator seating, and a snack bar.
Beach House Volleyball is located just off Bell Road & the 101.
16681 N 84th Ave #130, Peoria.