2 Retired LEOs Help You Make A Move To Arizona
-Meet Joe Sakala & Jason Scarpati
Using Joe and Jason as your realtors is literally like going on a ride a long with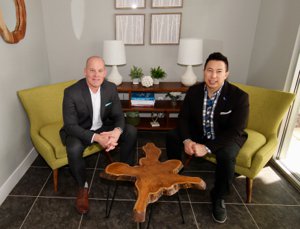 Starsky and Hutch or having a front row seat to an action scene from Rush Hour (in our minds, but probably more closer to The Other Guys movie in real life).
How did we end up selling real estate together?
Joe Sakala and Jason Scarpati first met in 1994 when we graduated from the Phoenix Police Academy and were assigned to our rookie squads as new officers to one of the roughest areas in Phoenix.
Let us paint the picture for you, both of us were 21, given a gun and a badge, and told to go to work. The one thing they forgot to give us was a clue, life experience, and the ability to grow a mustache (Joe actually had a beautiful Reno 911 mustache). You have to remember the time too, the mid 90's was the hayday for the Police in pop culture, the number 1 TV show was C.O.P.S. and police movies like Bad Boys and Speed were box office hits. Crack cocaine was out of control and we worked in the downtown Phoenix area notorious for prostitution and drugs.
Fortunately between the TV shows and movies, and our 21 year old wisdom, we knew exactly what to do. To say the least, there was a steep learning curve, but we were always there to keep each other grounded and safe. We went on to work together as training officers, training rookies out of the academy, (Dont worry we were way more experienced by then we had a full 3 years on the Department), and later teamed up on a detail as essentially precinct level detectives with an undercover component.
Jason always had a passion for real estate, and got his AZ real estate license in 2006, and began practicing real estate with his free time. Joe's wife, Shelley got her license shortly before that and began practicing full time and became a rock star real estate agent. They talked extensively about real doing estate after their police career and it was an easy transition to decide to retire and transition into real estate full time.
Now we have the band back together on our real estate team and apply that same productive teamwork and dedication we demonstrated throughout our police career. We've got your back whether you're moving to Arizona with a job transfer or are finally settling into retirement. We both have investment properties as well, so if that's something you'd like to investigate, we can assist with that too.
Call us now Joe Sakala 602-705-9421 | Joe@TheSakalaGroup.com
Phoenix Relocation
Home is just a CLICK away!
If you're searching for a home in Phoenix or anywhere else in Arizona, you can beat other buyers to the hottest new homes on the market by following these steps:
Start your home search here. Our website offers buyers access to every property listed in the Greater Phoenix area, and surrounding communities like Scottsdale, Chandler, Anthem and Peoria. Our detailed Property Search offers the most up-to-date listing information available and allows you to find homes by the criteria that matter most to you, like community features, new construction, or school district.
Get pre-approved. Knowing how much house you can afford is a huge advantage in your home search. Obtaining lender pre-approval helps you to narrow your search to homes that fit your budget and shows sellers that you are a serious, qualified buyer. Need recommendations for experienced, reputable lenders? I can help!
Let your dream home come to you. Register for a home search and you'll be the first to see the newest Norterra listings that meet your criteria. You can also save your favorite properties and get instant notification about price and status changes of properties that interest you.
Know the area. In addition to more than 300 days of sunshine a year, outstanding schools and plenty of unique cultural and recreational opportunities, Phoenix is filled with beautiful communities and neighborhoods. Want to know about schools, amenities or commute times? I have all this information and more. Just ask!
Put a professional to work for you. Contact us today!